Description
POWER WHEN YOU NEED IT MOST
The 24-Volt OVERKILL HD produces incredible sound output at minimal power consumption levels. Every component is carefully selected to produce the volume you need and the clarity you've been missing, all while operating at a high level of efficiency.
Designed from the ground-up, the OVERKILL HD is a 24-volt electronic snow goose calling system built for extreme performance without compromising quality, sound clarity, or battery life. We created this e-caller with a perfect combination of volume, sound clarity, efficiency, and useful features such as the charging ports. It's everything you need, and nothing you don't. The OVERKILL HD is designed for serious snow goose hunters and has received many high regards about its quality and performance from professional guides and experienced hunters.
The OVERKILL HD leaves no detail overlooked. From the uncompromising commitment to clear and crisp audio quality even at ear-piercing volume, to industry-leading efficiency and run time, marine-grade heat shrink on all internal connections, durable high-current twist-lock audio connectors preventing damage and accidental disconnection, 100% oxygen free copper (OFC) speaker cables, or even the balanced weight distribution to make carrying the e-caller more comfortable – we considered everything when designing this e-caller and built it to be a reliable performer. Whether you're running traffic, targeting migrators, fighting the wind or setup on a hot feed, the OVERKILL HD is the ideal electronic call for any snow goose hunting situation.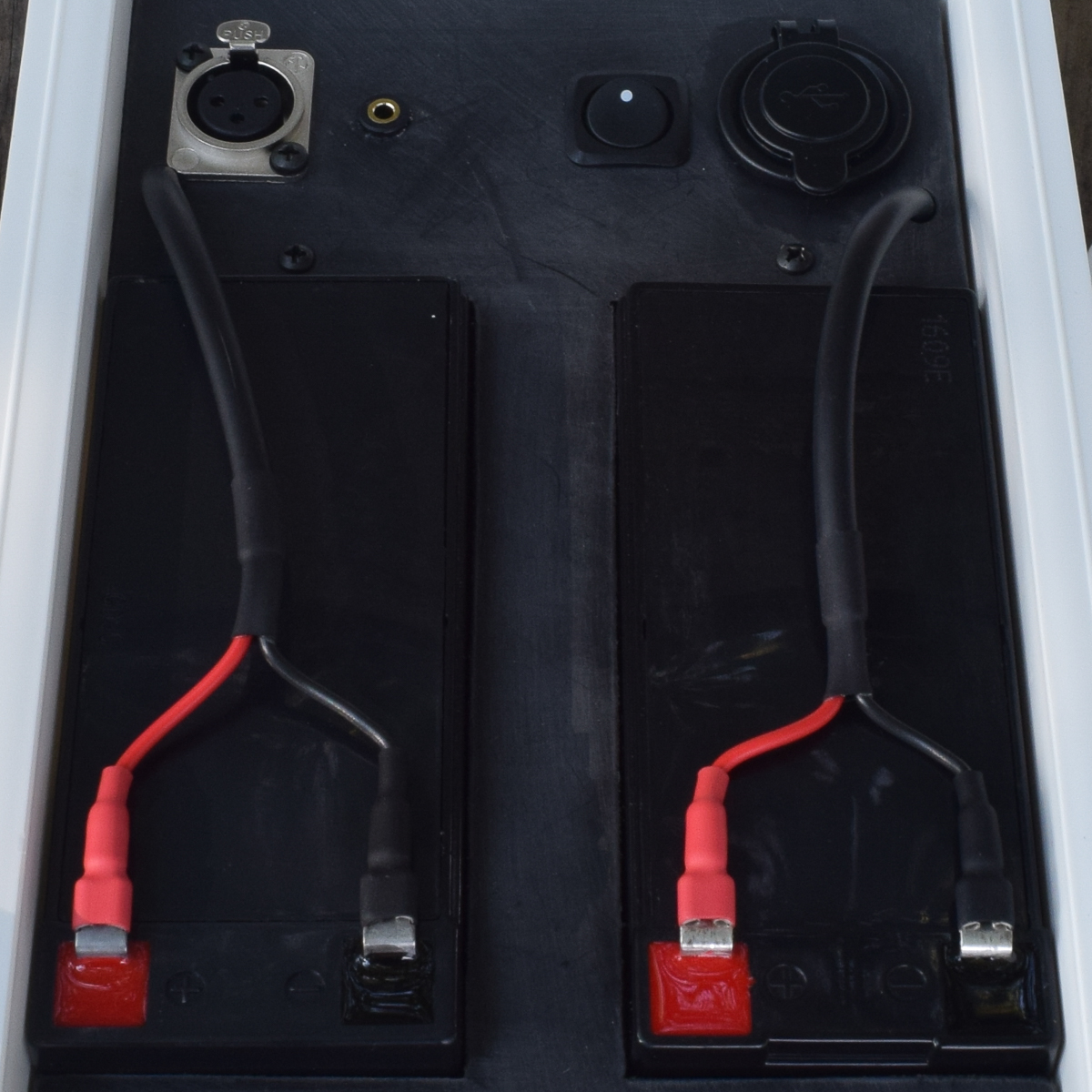 24 Volts of Power
The Overkill HD is a 24-volt system utilizing two 12-volt 10Ah SLA batteries (optionally included). Kicking the voltage up to 24 volts lets us crank the most out of our audio components without causing excess heat or battery consumption compared to trying to push the same power from typical 12-volt systems. The dual-battery setup also provides plenty of power to operate the e-caller all day, and keep all of your devices charged up as well.
Professional-Grade Speaker Connections
Durable heavy-duty high-current professional-grade speaker cable connectors securely twist-lock into the call, and are significantly less prone to damage, wear, and accidental disconnection compared to standard 1/4" phone plugs or the commonly used household outlet plugs. The twist-lock connectors also will not "pop" or "short out" during connection or disconnection if the unit is in operation.
Versatile Device Charging
Dual USB and standard 12-volt power outlets provide versatile charging options to keep your MP3 player, phone, GoPro, or other devices up and running all day long. The charging ports operate independently from the e-caller allowing you to have the main unit switched "off", and still be able to charge your devices.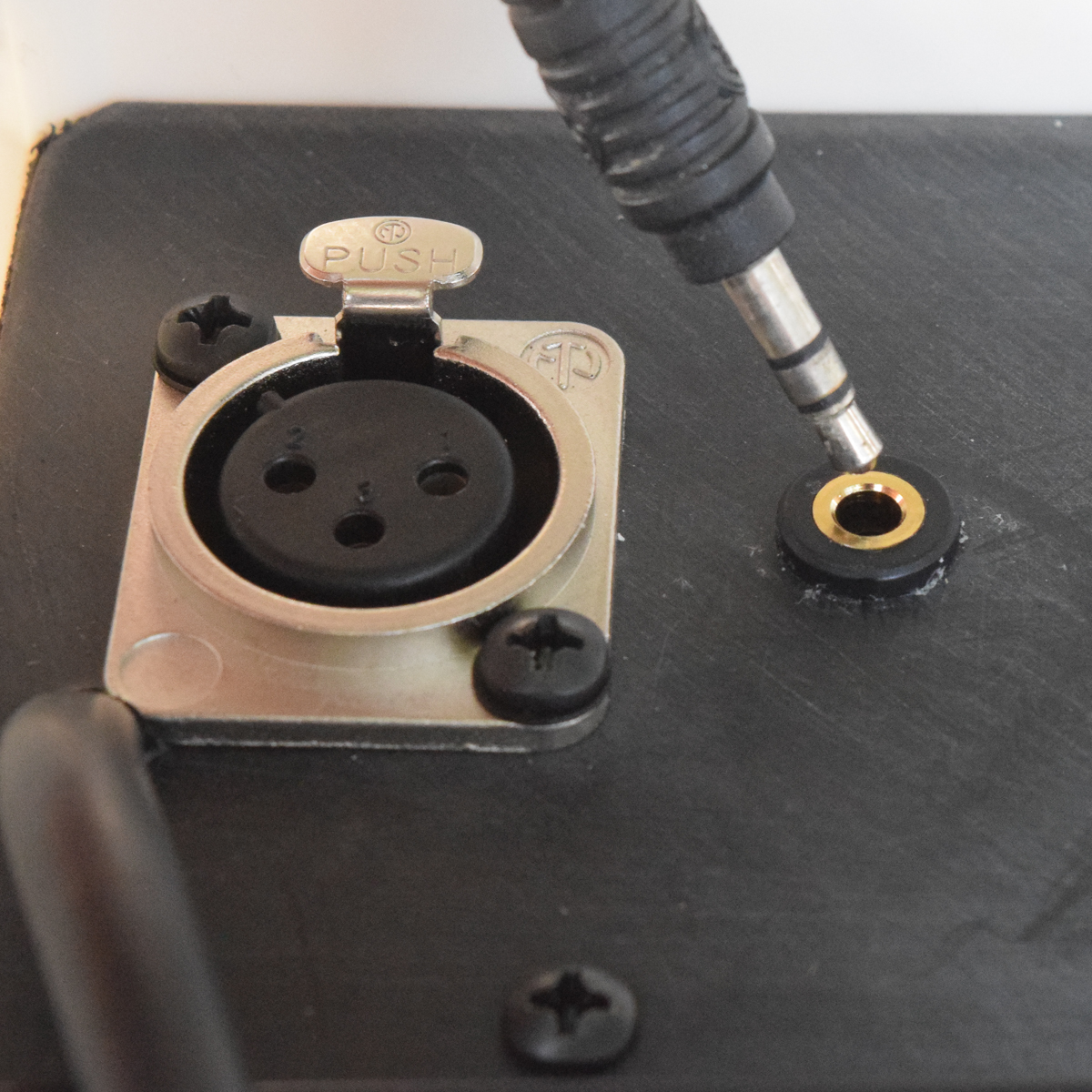 Versatile & Reliable Audio Input
Versatile 3.5mm (AUX) audio input jack works well with MP3 players, smartphones, and iPods, or you can even plug in a Bluetooth adapter to convert the unit to a wireless e-caller. Experienced hunters know that adjusting the e-caller volume when a flock is working can increase your chances of the flock finishing into the decoys. Sometimes you need more volume, and sometimes you need less volume, but you always need a reliable system. Using a hand-held audio device connected directly to the unit lets you adjust volume or change tracks with confidence. We even include a high-quality audio input cable with every call.

If you prefer a wireless option, take a look at the type of Bluetooth adapter that will plug into the call and allow you to charge the Bluetooth receiver while playing.

View Bluetooth Adapter
External Power Switch
Quickly and easily turn the unit on or off without even opening the lid. No more trying to connect batteries in the dark before the hunt or messing around with wire clips. Just flip the switch and you're up and running, or easily shut the call off to preserve the batteries (and your sanity) – all without opening the e-caller or messing with wires and connections.
The little things that matter most
When we set out to design the Overkill HD we intentionally tried to solve many of the common issues snow goose hunters face when using electronic calls. We made sure to address the little things that become big issues over time. That's why we make the extra effort and take the extra time to do things right. Here are some of the small things we do that make a big difference:
OVERKILL HD E-Caller Unit
4 high-efficiency speakers with 8′ cables and durable quick-lock connectors
Battery charger
Batteries (optional)
Speaker extension cables (order separately)
Quick Start Guide
SDL swag, of course!
– anything worth doing, is worth doing right –
My dad has always been a hard-worker with passion and ability to repair anything with wheels, gears, welds, or bolts – often better than it was before. He always placed great importance on doing the job right – to stand behind your work and sign your name on the line – and has instilled that quality into me from a young age as I worked alongside him in the shop.
Those lessons from dad carry over into everything we do at Snows Down Low, and they are definitely a driving force behind the innovation and quality we build into our products. All of our electronic snow goose calls are meticulously assembled one-at-a-time in Lewiston, Nebraska. With nearly 30 years of electrical, mechanical, and high-performance audio experience (plus dad's life lessons), you can be certain your e-caller is built right, and built to last.
We're honored for the opportunity to provide you with high-quality snow goose hunting products, and to be part of your success and great memories in the field.
Jamison Thies, Owner
Snows Down Low